IND vs AUS: By evening, after a harsh sun had beat down on the pitches at the stadium, a dust storm blew across Ahmedabad. Lightning streaked the sky that turned grey. Street dogs began to howl, and one mad dog sunk its teeth into the calf of a teenager at a bazaar. It felt like a scene from a retro movie poster. Indian batsmen would do well to seek some retro help of their own. If the performance analyst can grab hold of a VHS cassette of Sunil Gavaskar's classic 96 from his last Test on a minefield in Bangalore against Pakistan – even YouTube has a decent one-hour version, and have them watch it, a method to bat can bubble up.
Gavaskar has a suggestion, as told to this newspaper, and we shall come to it shortly but first the context. Two errors have been noticeable. When they have pressed back in panic, after misreading the length, the bat has gone too square, across the line. Think Rohit Sharma vs Nathan Lyon.
Secondly, when they have taken too long a forward stride, they haven't been able to get the bat around the pad in time. Think R Ashwin, Srikar Bharat, Ravindra Jadeja, KL Rahul. Virat Kohli has committed both errors.
Australia's wicketkeeper Alex Carey, left, successfully appeals for LBW against India's captain Rohit Sharma during the second day of third cricket test match between India and Australia in Indore, India, Thursday, March 2, 2023. (AP Photo/Surjeet Yadav)
Time and again, the bats have been dangled at awkward angles. But the question is why is it happening? Why are they seemingly pushing the ball too square, swiping across the line? It's not as if they are trying to flick or play it deliberately there.
Gavaskar explains, "The top hand guides the bat and the bottom hand decides the speed. So if you want to dead bat then the bottom hand has to have the slightest of holds on the handle. The top hand will bring the bat down as you want it, either straight or across the pads," Gavaskar told The Indian Express on Sunday.
Under pressure, the Indians top-hand game has gone missing; the bottom hand has taken over and swiped the bat in strange angles. Almost out of their control. As Gavaskar suggests, it's not a deliberate attempt to play so square but in the absence of top-hand in the shot, the direction has gone awry.
The two off spinners Nathon Lyon and Todd Murphy have more or less operated from round the stump, getting the ball to turn in from the middle and off line. The left-armer Mathew Kuhnemann has been delivering from very close to the stumps, and getting it to straighten or turn from the middle stump line.
Australian players appeal successfully for LBW against India's Ravindra Jadeja, right, during the second day of third cricket test match between India and Australia in Indore, India, Thursday, March 2, 2023. (AP Photo/Surjeet Yadav)
And Indians have repeatedly floundered – in their top-hand game or by pressing too far forward and across.
There have been exceptions like Axar Patel, who uses his top-hand better than most. Shreyas Iyer too uses his top hand more and that's why the same ball that trapped Kohli lbw in the second innings at Indore – a ball that skidded from short of length and had Kohli attempting to pull it too square – was dispatched by him to wide mid-on or midwicket boundary.
On that Bangalore minefield many years ago, Gavaskar doesn't charge down the track often, but the feet are forever on the move. Pressing back, creating his own length and time and crouching a touch to play the off-spinner Tauseef Ahmed and the left-arm spinner Qasim Omar.
"Bending a bit helps you as you are closer to the ball, so to speak," Gavaskar had explained. "Just like a great wicketkeeper who gets up with the bounce, a batsman, if he crouches just a little bit – not too low – where his head is more in line with the delivery angle, he would get to know which one to play. How far to go forward or is it better to go on the backfoot. Standing upright does not give that advantage on turners. They would be able to meet the deviation and bounce better if you crouch a little like a 'keeper."
Pujara did that to an extent in the second innings in Indore, and his feet movements were precise.
Gavaskar would do one more astonishing thing in that knock against Pakistan that's still hard to fathom. He was holding the bat a little bit higher to facilitate his top hand into the shot, but he says he would slide his bottom hand a little bit down when he wanted to dead-bat the ball.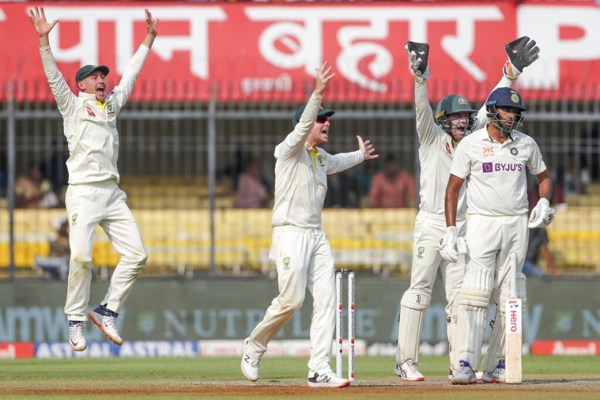 Australian players successfully appeals for LBW against India's Ravichandran Ashwin, right, during the second day of third cricket test match between India and Australia in Indore, India, Thursday, March 2, 2023. (AP Photo/Surjeet Yadav)
All this in real time on that crumbler. "Javed Miandad is standing at silly point ready to take anything. A grip where you hold the bat a little bit higher is a big plus on such pitches. When you drive, you are more likely not to hit it in the air. When you are defending, you slide the bottom hand a little bit down towards the shoulder of the bat – particularly when defending off the back foot, you are making sure the ball doesn't jump up."
Another man has been watching the Indians bat with a touch of disbelief from New Zealand – Kane Williamson's batting coach from childhood and mentor David Johnston. He too has arrived at the same conclusion as Gavaskar. And adds one more detail to it.
"If the front shoulder is strong and it rotates vertically then the bat comes down straight and the batters play late under their eyes. When the front shoulder rotation opens up, it causes the bat to come down crooked and often makes the batter contact the ball out in front or away from their eyes. On these pitches, batsmen need to stay straighter and hit to mid-on or wide mid-wicket rather than so square." Johnston also pointed out the importance of the front shoulder dip that helps the batsmen meet the ball under their eyes.
Once the Australians sorted their game and decided not to swipe across but use their top hand more, the difference could be seen in Marnus Labuschagne and Travis Head. Or even in the brief knock of Cameron Green or the doughty Peter Handscomb.
India's Virat Kohli walks back to pavilion after his dismissal during the first day of third cricket test match between India and Australia in Indore, India, Wednesday, March 1, 2023. (AP Photo/Surjeet Yadav)
The other mode of dismissal from Indians has been pressing so far ahead with that forward stride and unable to get the bat around the pad in time. Here is where an initial shorter forward stride helps, before the plunge forward happens. Again, Gavaskar's 96 on VHS would help. On his toes, a short stride forward, before he would stretch further. But never so much that the gulf is so far, that the hands and bat can't come ahead of the pad.
Mark Waugh too had said as much during his commentary stint during the first two Tests. "Take short stride first, and then let your hands and bat get forward if need be."
Twice Srikar Bharat has been dismissed in that fashion and in the last innings, he tried to do course correction. But since he didn't want to press his front foot too much across, he took it straight ahead on the leg stump line, but the smart Lyon slipped in an angler that went past the prod to take out the off stump.
By all accounts, visual and the aural, Ahmedabad isn't going to produce a rank turner. But India's skills will definitely be tested in the second innings. And the way the top order fell in the first innings of the second Test in Delhi to Lyon's around the stumps attack on a pitch that hadn't broken up yet, they might well have to bright their A game in the first innings at Ahmedabad itself. And as Gavaskar says, let that top hand kick in more and bat come through straighter.