Of the many adjectives and epithets that got assigned to her in news headlines, Sania Mirza frowned at "overnight sensation" the most. This was when she won Junior Wimbledon doubles in 2003 at the age of 17. Her peeve, she would tell the media a few years ago, was that she had been training for nine years starting from the time she was six years old. That headline plastered over the photograph of her holding the trophy aloft made invisible her hard work and her struggles.
There have been downright vile headlines over controversies she was unnecessarily dragged into, but the "overnight sensation" bit about her tennis rankled. She would mention being zapped by trainees at academies who saw her putting in two-three hours of practice, assuming that was enough to get where she had reached. This was her now. After a child and three surgeries.They forgot they have to put in seven-eight hours of practice daily, she lamented.
In her retirement, Mirza is still eschewing labels and dissing descriptors that she doesn't agree with; this last fortnight, she rejected "rebel" and "trendsetter". A fairly studious kid who wasn't a prankster, who swam and skated in Hyderabad, all she wanted to do was play tennis. The first coach her fiery mother approached at the Nizam Club 30 years ago, thought her too tiny, and flung the ball in such a manner as to show that they were crazy to try to teach her to play tennis.
One final embrace 🫂@MirzaSania has played her final match, wrapping up her career in Dubai!#DDFTennis pic.twitter.com/miVNQYJGMJ

— wta (@WTA) February 21, 2023
But she connected the ball to the racquet (the start of that awesome timing). And when even getting enrollment into an academy was a roadblock, it had felt amazing to be the first to do things when the system, the culture, the country didn't initially believe in her. For someone whose career, let alone the whole journey, cannot be contained in a headline, whose all-court hard work too gets overlooked by her own showstopper forehand, it's no wonder that no label adequately sticks. So, she made do with self-belief — not what people saw and interpreted — but what she believed in.
"She was more than just the forehand," says long-time friend and fellow pro, Somdev Devvarman, who has known plenty of players who had weapons in their game but didn't reach anywhere close to Mirza's level. "At first glance, the forehand has tremendous timing — she's got the flick, the angles, she rips it hard. But she was also gutsy to land it at the right place, hit it at the right time. It wasn't just the ability to hit it, but the belief in her strengths, the ability to deliver the goods when it mattered," he says.
Tennis star Sania Mirza poses for selfie with players Rohan Bopanna, Cara Black, Bethanie Mattek and others during her farewell at the Lal Bahadur Stadium, in Hyderabad. (PTI)
Her backhand wasn't too shabby either, though not fetishised as much as that flat ferocious fireball. "The backhand wasn't masking a weakness. Her tennis was complete court-craft. We grew up playing together and I've seen her since U10-U12 days and how different she was from all other girls playing. She had the intelligence to hit a shot, manoeuvre the point towards where she could use her weapon. Her serve was a weakness, but she always found a way to hold it when needed. She didn't have the greatest of volleys, but she found a way. She didn't have to hit hard just because she could, she had finesse to volley reliably in doubles. She was just well aware of the angles and where to hit. And she was one of the greatest returners from the deuce court in doubles," he summarises.
"No-one really believed a girl from India could achieve things that people thought were just a joke."

🇮🇳 @MirzaSania bows out from her remarkable career at @DDFTennis 💜pic.twitter.com/Z85N6qhL8P

— wta (@WTA) February 23, 2023
What her coaches realised was that if she made up her mind to hit that forehand, she was going to go for it — there was no curbing it or 'coaching' it. "That's her personality, one of her innate qualities. Especially when pushed into corners, she backed herself. Even if she had missed a few times, she would go for the same shot, such was her self-belief," says Devvarman.
It was the same personality that got stamped on her game. India often erred in mistaking her confidence for arrogance. It was nothing more than blazing self-assurance, so lacking in Indian female athletes unless drilled into them. Mirza was a natural. The supreme attitude of backing herself when others didn't necessarily believe in her might even have helped her tide over those umpteen controversies — most of which in retrospect seem absurd. India, circa 2005-6, was glaringly unready for an athlete like her, someone so comfortable in her own skin, so immersed in her love for tennis, so confident that she knew she belonged at the Wimbledon.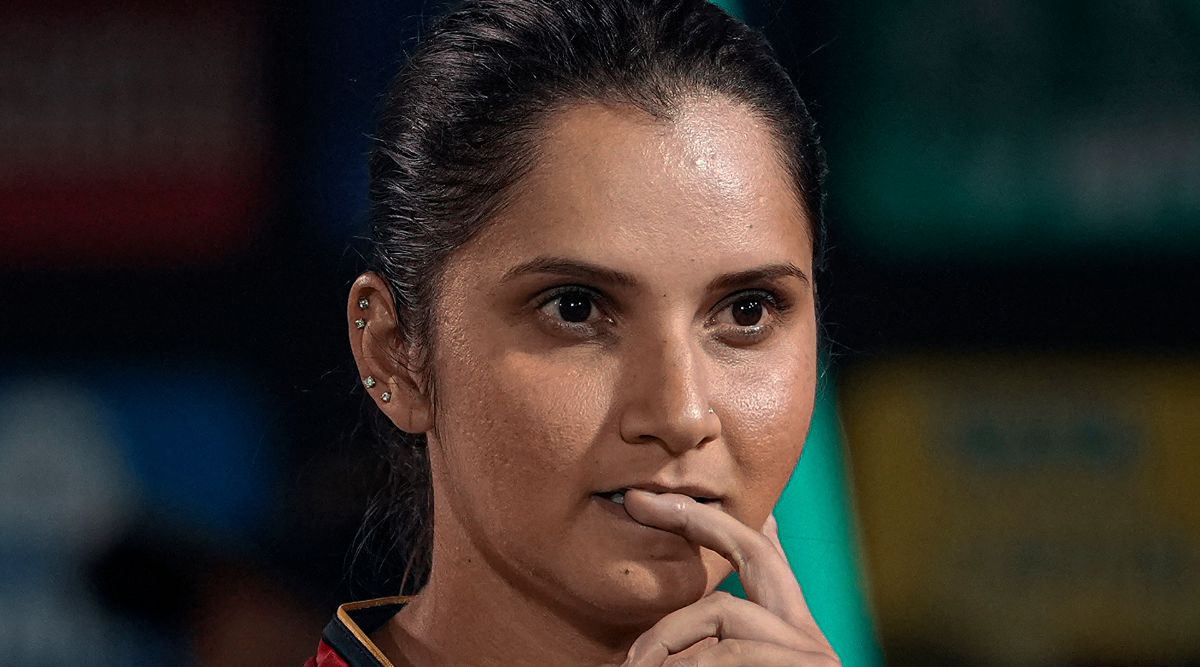 Royal Challengers Bangalore team mentor Sania Mirza during the 2023 Women's Premier League (WPL) Twenty20 cricket match between Gujarat Giants and Royal Challengers Bangalore at Brabourne Stadium, in Mumbai. (PTI)
The gleaming "arrogance" — shear that word of the negative connotations and it's a perfect attitude for female athletes to imbibe — was a compelling trait for other young girls. But also, can you truly let rip that forehand without that arrogant conviction in your own abilities when moon balls and lobs were the preferred shot or if you were scared of missing the lines? You couldn't. Could you win six Grand Slams and a dozen medals for India at CWG and Asiad Games, reach World No 1 — minus that spunk?
Speaking to Wimbledon after announcing her intention to retire last summer, that same self-belief seemed to be a big part of what Mirza sees as her legacy: "I hope my legacy is greater than myself. Even if I've inspired one young girl to dream in some way, however out-of-box it may seem, or inspired them to do what no one believed they could do, which is what happened to me, I can say I've had some success."
.@MHingis reflects on the joyous memories with her partner @MirzaSania as the duo won back-to-back-to-back grand slam doubles titles together ❤️🏆 pic.twitter.com/SesJlSRVBy

— Tennis Channel International (@TennisChanneli) February 22, 2023
That self-assurance was inculcated by her parents — the feisty mother who told the coach at Nizam Club that they'd go elsewhere if he didn't consider the little girl wanting to learn, and the father who would drive them all over the country so she could play at tournaments. She knew she was meant for tennis the first time the racquet connected. The timing was blessed, but the resolve got forged in her head. Mirza would go on to become World 1 in doubles, win at Wimbledon and in Australia and at the US Open. But it was her first medal – a bronze at Asian Games 2002 in Busan — that she has held close to her heart. "Winning the first medal at 15 was special. I went on to win many golds thereafter. But that first medal stands out for how tough it was to get to there," she would tell CNN. "After that it was easy for people, and even myself, to believe in me."
Six-time major champion 🏆
Former doubles World No.1 🌟

Congrats on a fantastic career, @MirzaSania 💜#ThankYouSania pic.twitter.com/7mXdiu86dQ

— wta (@WTA) February 21, 2023
It might annoy her critics no end that Mirza doesn't remember much of the shrill chaos they kicked up about her life for one inane reason or another while she was coming up as a tennis pro. The sport was far too much a loved refuge and way too painful on her double-jointed tendons, to bother about manufactured controversies irrelevant to it.
Or, maybe, she remembers the harsh opinions and ignorant judgments, but will not give anyone the pleasure of witnessing how bad it hurt then and how silly it seems now. What else can you possibly play tennis in but a skirt? Either way, there are six Grand Slam trophies at her home at the end of it.Which would be six more than those nameless, faceless ones who kept cackling and commenting on her life.
Hyderabad: Tennis star Sania Mirza during her farewell at the Lal Bahadur Stadium, in Hyderabad, Sunday, March 5, 2023. Sania announced her retirement from professional tennis earlier this month at the Dubai Tennis Championships. (PTI Photo)
In recent years, Mirza has settled into responding to all these storms in teacups with humour and sarcasm. But she had offered up an argument to CNN many years ago when what she wore turned orthodox clerics hysterical. "Yes, I'm a Muslim athlete," she said, "But the religion I believe in and worship has nothing to do with my playing tennis. I think they (whoever opposed her) forget that the other 2,000 people (ranked players) also have a religion, and no one asked them about it." In the end, she would embrace the identity and become the inspiration for all women of the community, and beyond. The controversies went deep when she was pregnant, this time in the form of body-shaming. Her riposte: "It's natural since you are actually producing another human being." Having added 23 kg, she would lose 26 kg, starting to work out three weeks after the baby was born, and eventually return to the Tour, ending her
career with an Australian Open final.
A true inspiration to so many @MirzaSania . Your impact on the sport will be long-lasting 🙏#AusOpen • #AO2023 pic.twitter.com/SljM6J2V3Z

— #AusOpen (@AustralianOpen) February 6, 2023
There had been the early ridiculous taunts she waved away: 'Abhi kitna khelogi? Tomboy ban jaogi!' And there were the real gender battles which she spoke up against. Speaking on Kareena Kapoor's chat show, she would address the biggest of them all, "People asked why should women players get paid equally? Arre, why should we not?"
Devvarman recalls those torrid times. "You don't wish any of your friends to go through what she was made to go through. But each time she would emerge more mature, wiser, and a better player. Her determination was phenomenal. Every time something happened, I'd want to tell people: 'Don't even try and think Sania Mirza is gonna tap out. She'll fight. She'll be back on the podium.'" The tee-shirt retorts were always creative and deliciously cutting. But in recent years, and with the Slams piling up, the cretinverse would slowly fall silent, or stop messing her up at any rate. "Cowards hiding behind gadgets who might ask for a selfie if they came face to face," as she called them.
"My professional career started in Melbourne… I couldn't think of a better arena to finish my [Grand Slam] career at."

We love you, Sania ❤️@MirzaSania • #AusOpen • #AO2023 pic.twitter.com/E0dNogh1d0

— #AusOpen (@AustralianOpen) January 27, 2023
But there were millions who found her utterly inspiring. Besides PT Usha, Karnam Malleswari and the 2002 Commonwealth Games-winning hockey team, India never had female sports stars, and even they were not put on the pedestal reserved for cricketers. Mirza would rise like a phenom — a young girl adjusting her visor cap and thwacking the ball with might, her nose ring shining. It wasn't the glamour — though it was those marquee wins that put the spotlight on the glamour — beating Svetlana Kuznetsova and Marion Bartoli, winning a WTA title with Liezel Huber, making singles finals, and, finally, the shift and Grand Slam wins.
Mirza now craves "normal life": School runs for son Izhaan; not picking clothes to wear out of suitcases; staying in one city, one bedroom the whole time. As a child, she'd once wanted to become a doctor. But playing at Wimbledon was a more compelling tug at the heart. Talking to ABN Entertainment a few years ago, Mirza had spoken of her interest in everyday things. She loves designing interiors and dressing up homes. She loves fashion but doesn't understand it, she confessed, but leaves it to her sister to style her. Having woken up to alarm clocks all her life, she would like to take it easy. "I'm a lazy person, and I'd sit in my pajamas the whole day if I didn't have to get up," she said. Much as self-belief, she urged love for the game. "There's only so much of forehand, backhand, volley, serve you can train (for). I wouldn't do it if I didn't love it."
She had a huge crush on actor Akshay Kumar since his Mohra (1994) days, is best friends with filmmaker Farah Khan and is certain that she wouldn't play herself in a biopic. "I'm not comfortable," she'd tell ABN. "Not camera-friendly, though I'm better at interviews. I can't act. I'm not acting now, just being myself." It's always been about being herself — one of India's most authentic career pros gave it one last rip at the Australian Open this year and will now pack away the racquets for a quiet life ahead. There was a lot of success — just that none of it happened overnight.